Trinity Gardens Opens in Fairview, TX
Trinity Gardens, Fairview, TX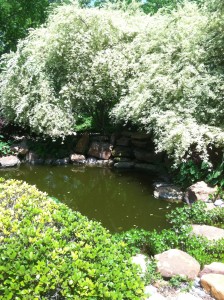 Trinity Gardens opened this weekend and we stopped by to visit our friend and garden manager, John Krause.  Many of you know John from the radio and his show, Natural Living First which John co-hosts Sunday afternoons on WBAP.    True to his word, Trinity Gardens is beautiful and carries a great selection of perennials including native trees, a full line of organic lawn and garden products, bedding plants, veggie plants, and landscape design.  If you're looking for an organic garden center, this is the place.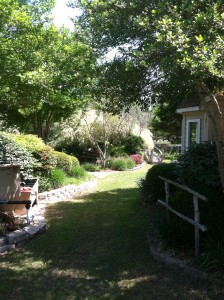 The grounds are beautiful, laced around several koi ponds with established landscaping, Trinity Gardens is a delightful place to visit.  There is a large chicken coop which will be home to several lucky chickens.  The "Angel Shed" will soon feature unique gift items from local artisans.  Monthly garden seminars from garden expert John Krause are also planned.
An interesting addition to this place is the area beyond the garden center.  Within this serene setting you'll find a western town front, large outdoor brick fireplace and patio, and trails leading you down into the cool, tree sheltered venue.  The future vision for this area is a place to host parties and events, and we agree!  Add a little music, string some lights and you have the perfect setting for an evening reception or a unique party, set among beautiful landscaping.
John is giving away a tomato and pepper plant as part of the grand opening.  Stop by and check them out, they are great looking plants.  We picked out an early-girl tomato and a bell pepper plant.  They have many choose from, around 8-10 inches tall and ready to go into the ground.  Can't wait to taste them later this summer.  Hardy ageratum and sun drops rounded out our purchase, the ageratum is an addition to the butterfly garden.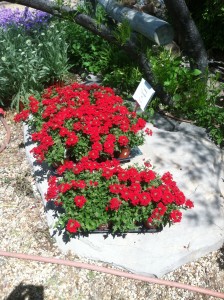 Trinity Gardens is located just 1 mile north of Stacy Road in Fairview, Texas. You can find them at 690 S. Hwy 5, Fairview, Texas.   Trinity Gardens is a division of Trinity Tree Farms and Strange Landscape.