RMM Website Wins Award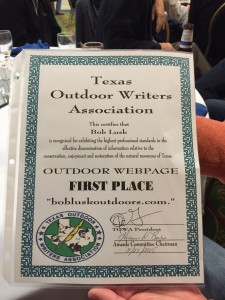 The Texas Outdoors Writers Association presented the "Bob Lusk Outdoors" website (www.bobluskoutdoors.com) with a first place award at their annual conference on Saturday, February 28th, 2015.
The award recognizes the website "for exhibiting the highest professional standards in the effective dissemination of information relative to the conservation, enjoyment and restoration of the natural resources of Texas."
Red Mango Marketing built the website for Bob Lusk Outdoors and continues to operate and maintain the website and content.
Congratulations to Bob Lusk!
---
This entry was posted on Sunday, March 1st, 2015 at 4:37 am and is filed under
News & Updates
. You can follow any responses to this entry through the
RSS 2.0
feed. Responses are currently closed, but you can
trackback
from your own site.
---