RMM Interns Fly the Coop
August means back to school for our summer interns! RMM interns keep your business humming along, working behind the scenes much of the time. Kendall kept the email lists updated, researched tips and timely information for your Facebook fans, found those fun "Write the Caption" photos and spent some time on the road visiting clients. Now back at Indiana University, she plans to work on special projects with us as her schedule allows.
Meghan, back for her second year this summer, added content to the websites and increased your website traffic with her SEO skills. All our clients have benefited from the keyword updates to your website. Meghan heads to Italy next week as part of the study abroad program at California Polytechnic. Good luck Meghan!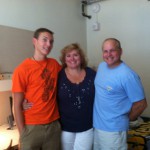 On a personal note our eldest son also "flew the coop" this month. Bob, Chris and I moved Matt into his college dorm at Oklahoma State University in early August. We're not sure if the pain in our chest is from the piece of our heart we left in Oklahoma or our hearts busting with pride. A little of both, I'm sure.
You can check out Matt on most Saturdays during football season on TV. He's the young man playing the mellophone for the band during halftime performances. Go Cowboys!
---
This entry was posted on Wednesday, August 29th, 2012 at 2:41 pm and is filed under
News & Updates
. You can follow any responses to this entry through the
RSS 2.0
feed. Responses are currently closed, but you can
trackback
from your own site.
---