How to Create a Great Offer!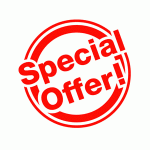 The key to a great offer is that it's compelling enough to get people to act. It also needs to bridge the gap between your customer's needs and your success.  So how do you do it? Let's take a look.
1) Set a goal.
What is there vision for success?
What specifically would make their promotion a success?

Is it a dollar amount,
Getting existing customers into the store,
Driving new customers to the store and how many?
Write these down and pick one to use for an offer.
2) Understand your audience. Think about one of their best customers and create an offer that would appeal to that person.
What does their best customer want or need?  What would really "Wow!" this customer?
What type of incentive has inspired this customer to take action in the past?
What is it about their business that would make this person want to refer her to their friends?
Write down the answers and pick ONE that you'll use for this offer.
3) Value – Determine the value you bring to your customers.
Your customers have many options, why would they want to support your business?
What products or services do you provide that make your best customer's life better?
 There are probably many things that make your business valuable to your audience.  Write them down.
Now, pick ONE key aspect of value to use for this offer.
4) Create the offer. Take the one item they chose from steps 1-3 and put them together to answer this question:  Why should someone come into their store?
Example: Russell Feed & Supply
Set a Goal:  Russell Feed & Supply chooses to get 100 customers to their store.
Understand your audience:  Russell Feed & Supply has had great success with offering a percentage off to their loyal customers. The customers consider it a nice little "thank you." (Example: Save 15% off annual "Thank You For Your Business Coupon" in January)
Determine your value:  Russell Feed & Supply also understands its pet foods, pet supplies and service to the community are an important part of its customers' (client and pets) reason for shopping with them.
Create an offer:  Russell Feed & Supply puts it all together to create a 15 Year Anniversary deal of 15% percent off a customer's next purchase which they can promote as a "thank you" to its customers for shopping with them.   A coupon on the website, a coupon on Facebook and a coupon in the newspaper valid for 5 days only generate more than 200 folks to their stores.
Remember, not every offer needs to be a discount.  Some ideas include free coffee/donut/dog treat, spend more than X amount and get x% off your next purchase and so on.
Source:  Constant Contact