Bring Luck to Your Business with these St. Patrick's Day Email Templates
Holiday-themed email marketing plays a big role in how you communicate with your customers, and get the word out about your upcoming holiday promotions.
Holiday emails carry important offers and discounts that help consumers make the most of their special day. Still, your email should be tempting enough to thump the hearts of your audience.
According to the National Retail Federation, U.S. consumers are expected to spend over $5 billion on St. Patrick's Day.
You can take a chunk out of that green pie by using these St Patrick's Day email templates from Constant Contact.
New to Constant Contact? Sign up for a free 60-day trial!
Let luck shine on your business
A simple "Happy St. Patrick's Day" email is the perfect way to share some luck with your customers and encourage them to do business with you. Here at Constant Contact, we've designed five great-looking St. Patrick's Day emails to help you impress your customers.
Whether you decide to send a heartfelt message, offer an eye-catching coupon, or invite your customers to spend their holiday at your business, your contacts will be impressed and ready to engage with your business.
Here are five templates to consider using for St. Patrick's Day this year:
1. St. Patrick's Day Greeting
Wish your customers a happy holiday with our  St. Patrick's Day Card email template. This design helps you grab your reader's' attention and keeps your messaging focused with a direct call to action.
Use this template to get people to visit your website and make a purchase.
2. St. Patrick's Day Promo
St. Patrick's Day is all about feeling lucky. If your business provides a service, you need to make sure customers know about it. Design an email with details of your current service promotions, like St. Patrick's Day themed menus, free green drinks at your restaurant, and more.
The point is to theme your offer around St. Patrick's Day, and create something different from your regular service offerings.
3. St. Patrick's Day Sale
Even though it's known for drinking, people love to shop on St. Patrick's Day too. This email template allows you to offer multiple discounts, or even create a mini-game that directs customers to your website to receive extra discounts or bonuses on future orders.
Some examples include a free dessert or appetizer, or BOGO offers.
4. St. Patrick's Day Coupon
Even if your products aren't Irish or green, your customers still love an opportunity to save some of their own green. This all-green email template helps reinforce your message, with a CTA that keeps that hard to resist St. Patrick's Day feeling going.
Encourage guests to make a purchase in time for the holiday.
5. St. Patrick's Day Event
If you have a local business, get involved in city-wide promotions.
St. Patrick's Day is a fun holiday for the whole family, with many cities hosting parades or 5K runs. Your business can get involved as a sponsor, or you can simply participate by attending while wearing branded attire for your own business.
Even if you're in a business-to-business industry, St. Patrick's Day is a great time to expand your visibility by participating in family-friendly celebrations.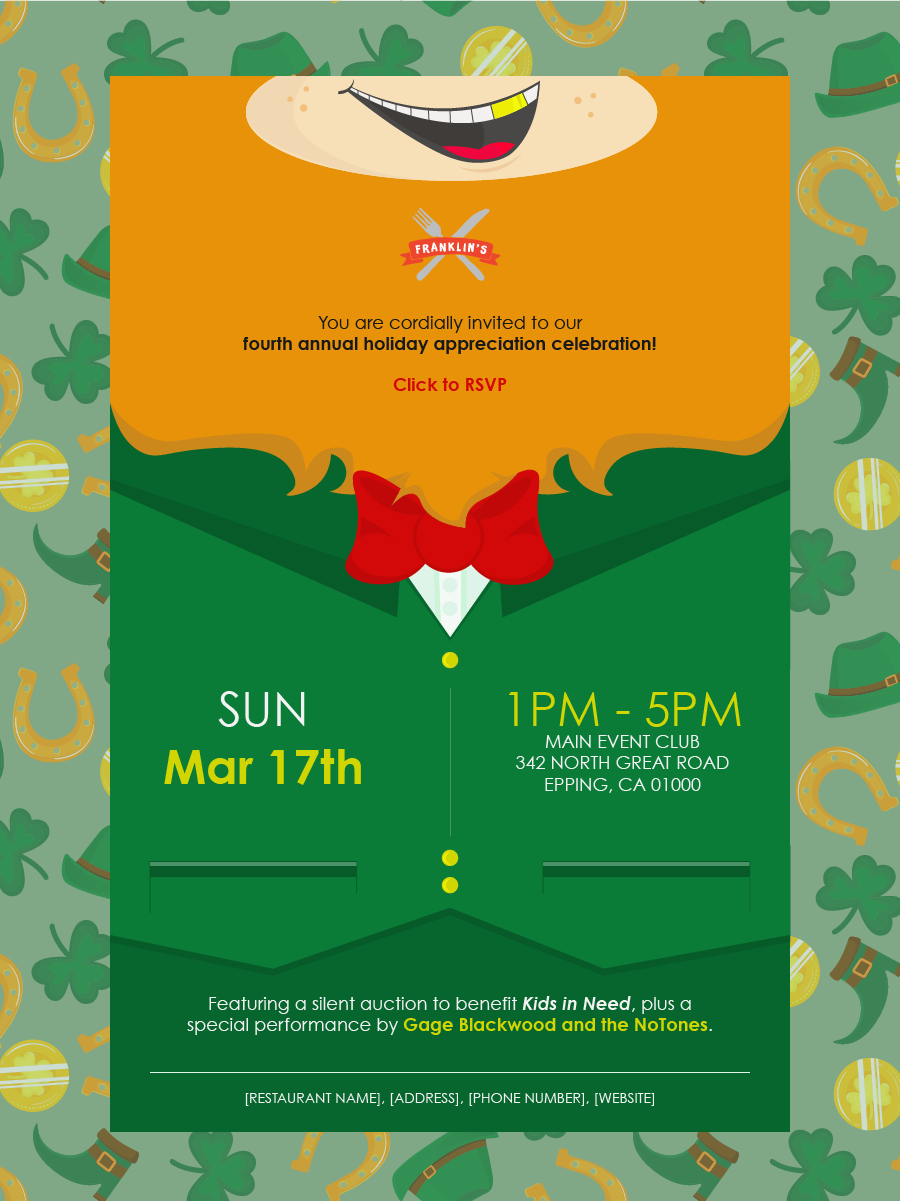 Which St. Patrick's Day email is right for your business?
Don't be afraid to have fun in the inbox with your email campaigns this month. Spring holidays like St Patrick's Day can bring a breath of fresh air to your subscriber's inboxes, and you want your business to be part of that.
If you're hosting an event or special in-store sale, start letting customers know early in the month so they make plans to attend (and bring their friends or family along). Share your event with your email list, and on social media.
No matter which template you choose, our mobile-responsive email templates look great on any sized screen. Customize each template with your business brand, add your content, and deliver your customers something special this St. Patrick's Day.
Ready to get started?  Log in to find the right St. Patrick's Day template for your business!
New to Constant Contact? Sign up for a free 60-day trial!
The post Bring Luck to Your Business with these St. Patrick's Day Email Templates appeared first on Constant Contact Blogs.