Bob Lusk Outdoors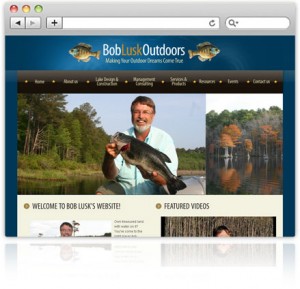 New client Website went live last week, Bob Lusk Outdoors.  The premiere expert in pond and lake management, Bob Lusk is a fisheries biologist with more than 30+ years of field experience in the ark of pond and lake management.    His talented writing skills, combined with many, many years of hands-on experience, makes him one of the best known lake management consultants in the world.  Ray Scott, founder of B.A.S.S., says, "Bob Lusk is the best fisheries biologist I have ever met. He has a magical way of taking the most technical fisheries management ideas and communicating them in ways we can all understand."
This suburban wife/mom/business owner agrees!  One meeting at Lusk Lodge II and I was sold!  Imagine a business meeting held outside on the porch above a pond. A gentle breeze blowing, the soothing sound of water, my boys fishing and exploring the ponds and wildlife.  The house, ponds, and views all designed by Mr. Lusk himself.  Did I mention that we caught some fish?  Right there on the dock, next to the floating island in the pond.  How many folks can boast business meetings in such a wonderful ambiance?  We love our customers!
If you are looking to build the pond or vacation property of your dreams, call Bob Lusk.  Take a visit to his Website, look around, and them pick up the phone and give Bob a call.  One call and you'll be "hooked!"
---
This entry was posted on Tuesday, September 13th, 2011 at 5:56 pm and is filed under
News & Updates
. You can follow any responses to this entry through the
RSS 2.0
feed. Responses are currently closed, but you can
trackback
from your own site.
---