Real Estate Marketing Plan: 5 Must-Have Strategies for Agents
What is real estate marketing like in 2021?
In a word: digital.
More than 99% of millennials are using the internet to shop for homes and real estate agents.
And don't be fooled into thinking it's only the younger buyers and sellers who are using the internet in their real estate decisions. Upwards of 90% of young Baby Boomers are also turning to the World Wide Web for help with their real estate decisions.
The writing is on the wall; if you want to be successful in your real estate marketing in 2021, you've got to be online.
But, what does that mean for you as a real estate agent?
In this article, we'll introduce you to our real estate marketing plan, and go over the top five must-have marketing strategies for real estate agents.
Introducing our free real estate marketing plan
To help you start putting the most effective real estate marketing strategies to work, we collaborated with Constant Contact to develop the ultimate real estate agent marketing plan, which you can download now for free!
In our comprehensive 74-page real estate marketing plan, we go over the top online marketing strategies for real estate agents
Our real estate mareketing plan includes:
How to set your online marketing goals
Where people will find you online
How to develop website and social media content to reach your specific audience
What you need to do to pull it all together to convert your new prospects into genuine leads
What you need to know about online real estate marketing strategies
Having worked for over a decade in the real estate business as an agent and as a Digital Strategist for teams both large and small at big-name brokerages like Coldwell Banker and Berkshire Hathaway HomeServices, I've seen firsthand the challenges of marketing your real estate business.
Ready to find qualified leads, get expert real estate marketing advice, and sell properties faster, all in one place?
Most agents I've worked with over the course of my career are not short on motivation and drive. You know a solid marketing scheme is important; you know it is critical to taking your career to the next level.
What most of us are short on are things like time, energy, and if we're being honest with ourselves, the confidence that this is a good way to spend our money.
Since I became a staff writer and real estate coach for real estate strategy site The Close a little over a year ago, I've gotten to help agents in all stages of their career to solve these problems by helping them develop new, innovative real estate marketing ideas to save them time, save them effort, and best of all, demonstrate a clear return on their investment by generating real leads that result in closed sales.
What most real estate agents don't understand about online marketing
Time and time again, one of the biggest issues I see agents face is a lack of a clear, unified real estate marketing strategy. There once was a day when managing your marketing on a single channel (like the newspaper) was enough to get you the phone calls you needed to build a successful year.
Now, real estate agents have to deal with multiple channels across the internet from Zillow to social media, each with their own message, each that need to work in tandem with one another. This complexity makes it easy to get frustrated.
Rather than throwing your hands up and losing out on the opportunities that online marketing presents, simplify your approach by starting with a strong marketing foundation that includes these five key elements.
5 key marketing strategies for real estate agents
Managing your real estate marketing plan comes down to five key strategies, all of which can be managed within Constant Contact for real estate.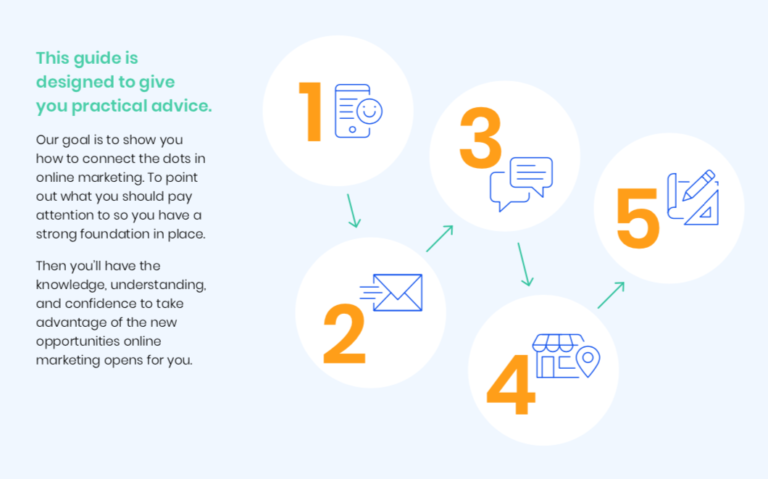 Why are these the 5 key strategies for a real estate marketing plan?
Your online marketing presence has lots of incremental goals, but the overall goal is to do one thing: create more leads that you can convert into clients.
1. A mobile-optimized real estate website
In order to do that, you need a few things to be successful. The first is a fantastic, mobile-optimized website that prospects can visit and learn about you, and ultimately use to reach out to you when they're ready to do business together.
2. A real estate email marketing tool
Not every prospect who reaches out to you is going to be ready to do business right away, which is why having a lead nurturing system in place to continue momentum down the funnel is essential. Email marketing allows you to maintain contact with people passively, providing them value with every message you send.
3. An easy way to implement real estate content marketing
Online content creation (or "content marketing") is your chance to demonstrate to the world (and to Google) that you are an expert in your field, giving you a chance to provide information to your prospects that will not only help them in their buyer or seller process, but also reinforce the idea that you're the right person to help them.
Since your website is your home base and the best way for your prospects to contact you, hosting your content there is your best bet.
4. A primary social media channel for your real estate brand
But, just having your content online for Google to find isn't enough. Remember, we're not waiting for our customers to come to us, we are actively marketing to them, which is why having an active and engaging social media presence is also important. Here, you can point people back to the content you've created on your website, engage them in conversation, and create a dialogue that will allow your prospects to learn more about who you are, not just what you do.
5. Updated real estate agent listings and reviews
Finally, successful online marketing campaigns include a way for your satisfied clients to share their stories with your prospects, which means you need a way to solicit, manage, and promote your online reviews. Remember, referrals are a real estate agent's best source of new business; great reviews will help super-charge your referral machine.
Use this real estate marketing plan to find more leads online (and close more deals)
Now that you know the five key elements of your online marketing strategy, dig into each element more thoroughly and get more real estate leads in our easy-to-follow and free (!) 74-page plan, The Download: Making Sense of Online Marketing for Real Estate. Download it today.
More marketing advice and strategies for real estate agents
Check out some of our top real estate marketing articles and step up your digital real estate marketing strategy!
The post Real Estate Marketing Plan: 5 Must-Have Strategies for Agents appeared first on Constant Contact.