Get Ready for Small Business Saturday on November 30!
We love small businesses. In fact, it's our mission to help small businesses to do more and grow more with our tools and guidance. That's why we are proud to join with American Express to support the 10th annual Small Business Saturday this November 30!
What is Small Business Saturday?
The idea for this special day is to encourage people to shop small during the post-Thanksgiving weekend and support their local economies. It has become a holiday shopping traditional dedicated to supporting all kinds of businesses — from the corner store, to your favorite local restaurant, to your neighborhood comic book shop — and everything in between!
Scheduled for Saturday, November 30, 2019 this nationwide effort is poised to direct lots of retail traffic and revenue to U.S. small businesses. And you'll want to be a part of it.
Since Small Business Saturday started, U.S. customers have reported spending an estimated total of $85 billion at independent retailers and restaurants. Not bad!
Is your small business ready for Small Business Saturday?
We'd like to help you make it your biggest sales event of the year.
Along with other Holiday-themed email templates, we've created Small Business Saturday-themed email templates to help you spread awareness and rally customers for the big day. If you're a Constant Contact customer just log in and search for "Small Business Saturday" in the Template Selector to access them.
TIP: Not a customer? Just sign up for a free 60-day trial to send a Small Business Saturday email for free.
Small Business Saturday Template with GIF
Small Business Saturday E-Card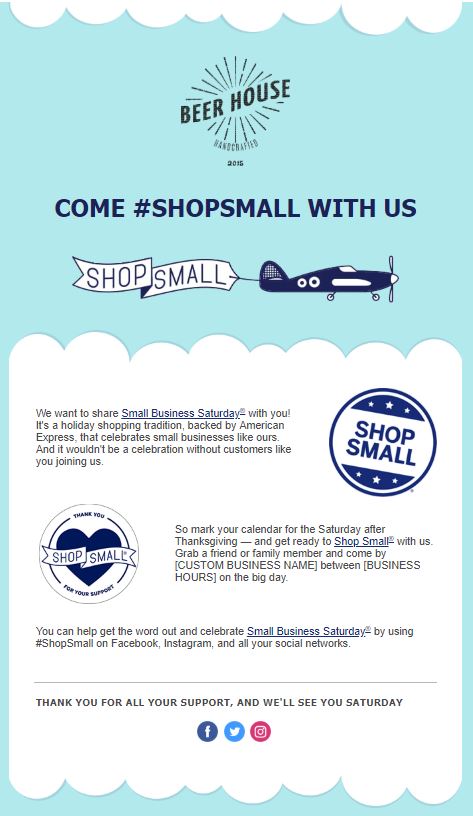 The post Get Ready for Small Business Saturday on November 30! appeared first on Constant Contact.