5 Attorney Lead Generation Tactics to Try Now
A sharp focus on attorney lead generation is a must if you want to maintain a stable, steady stream of incoming work. This is true for attorneys working for firms, as in-house counsel, or independently as sole proprietors and consultants.
You can find countless techniques for drawing new clients, but for attorneys and lawyers — and anyone who bills by the hour — efficiency is crucial. You need to bring in as many quality clients as possible as quickly as possible, full stop.
Get new clients and drive referrals with marketing tools and advice for legal professionals.
Here are five game-changing lead generation ideas for lawyers that you can put into motion right away:
Schedule in-person and virtual networking events and meetings
Optimize your website and local search listings
Write guest blogs
Use Google Ads
Get more from LinkedIn with Groups
Read on to learn more about each idea and how you can implement them to start generating attorney leads.
Schedule in-person and virtual networking events and meetings
Despite the TV and movie stereotypes, you likely don't have time to hang out on golf courses or wine and dine potential clients every day of the week.
Still, networking has been an effective way to generate clients across virtually every field for decades. If you want to build your brand, you'll need to fit in some time for it.
Why schedule in-person and virtual networking?
One of the easiest, most effective ways to bolster attorney lead generation is to integrate networking right into your calendar. An hour spent planning for networking activities over the next several months will pay big dividends.
Scheduling in advance is far more efficient than trying to fit in networking opportunities as they pop up. You'll also have more time to develop a tailored approach for each event.
Seek out upcoming practice meetups, conferences (including virtual formats), and events that have real potential for useful networking. Buy tickets or RSVP, and plug the dates into your calendar. You'll be glad you figured out the logistics early.
Optimize your website and local search listings
If you have a website for your law practice (which you should), spend a little time enhancing your pages for better search engine optimization (SEO). You can also improve your local online presence on Google My Business and other directories.
Why optimize your website and local search listings?
SEO has become something of a buzzword among marketers, but we promise — it's a real thing, and you need it. The concept is simple: Make the Google search engine algorithm happy, and your website will rank higher when people search for terms related to your practice.
Google (and other search engines) prefer sites that include:
Authentic, relevant content
Mobile-responsiveness (a clean display on smartphones)
The right keywords used in natural, organic ways
Features like blogs and "About" pages
Sub-pages
Uncluttered interfaces
Strong navigation
Graphics and images (but not too many)
Local listings work a bit differently, but the overarching concept is the same. The higher you rank, the more likely it is that people will find you when they search for an attorney or lawyer with your specialization.
If you aren't sure if your website is as SEO-friendly or as mobile-responsive as it could be, it might be time to talk to a Marketing Advisor. 
Eighty-seven percent of smartphone owners use a search engine at least once a day — so mobile responsiveness is critical. 
In the meantime, if you're tech-inclined, spend an hour sprucing up your home on the web. Do some quick keyword research and adjust some of the content on your site accordingly. 
Write guest blogs
Blogs help businesses move up in search rankings, but they can be time-consuming to update consistently. One way to keep the content fresh is to share blog posts with other professionals and invite them to write guest posts for you.
Why guest blog?
Guest blogging can be beneficial in several ways:
You get your expertise in front of new potential clients.
You can build a mutually beneficial relationship with a professional colleague.
Your guest blogs will show up in search results — so be sure to link them back to your website.
Many legal-focused websites put out calls for guest blogs. You can also reach out to other attorneys and professionals who practice in complementary areas to discuss a blog exchange.
For example, if your area of interest is privacy and data law, clients of a telecommunications-focused attorney may find posts about how newer regulations like GDPR or CCPA may affect upcoming contracts.
A lawyer focused on estate law could write a blog post for a financial planner's clients that focuses on how investments are usually handled during probate cases.
Use Google Ads
Google Ads is a pay-per-click (PPC) digital ad tool that helps to steer traffic toward your website when someone searches Google. To create effective campaigns, you'll need to optimize your ads with the right keywords. 
Why use Google Ads?
You may be wondering why you need to pay for ads if your website is already optimized. The simple truth is that Google prioritizes paid ads over "organic" search results. Note the difference: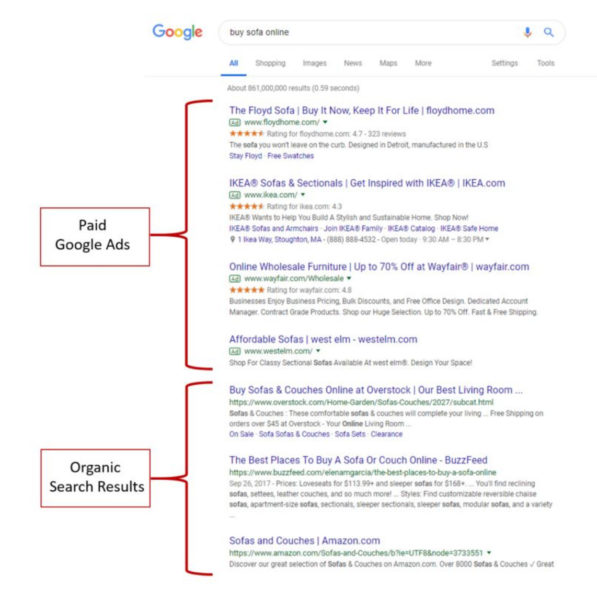 As you can see, Google bumps paid ads above listings without advertising attached. The search results still include the ad-free listings because these sites have been optimized on the search keywords. However, your rank makes a measurable difference in how many people will click through to your website. Sixty percent of traffic from Google searches goes to the top three results. 
Setting up Google Ads with the Constant Contact Google Ads tool gives you access to smart automation that will make the ad-creation process lightning fast. The tool zeroes in on the best keywords automatically, saving you time and hassle by eliminating the keyword research phase. Once you're up and running, you can launch new ads in a few quick steps. 
Get more from LinkedIn with Groups
LinkedIn has rocketed up the ladder of success over the past few years. The business-focused networking site now offers more social media features that allow for conversation beyond direct messaging. 
Getting your message in front of a portion of the site's 650 million users should be on your radar.
One of the best direct routes for lining up promising interactions is to join the right LinkedIn Groups. These virtual meeting rooms allow you to post content and share information about topics that will interest the group participants. 
Why join LinkedIn Groups?
LinkedIn Groups are similar to breakout sessions at a big networking conference:
Partnership opportunities — you likely share common interests and goals with other group members.
Other members can help you come up with solutions to challenges you've encountered.
You can build authority by bringing your expertise and insight to the group, which will help you to build strong, lucrative referral relationships.
Get started generating attorney leads
We've touched on several ideas for attorney lead generation that you can pick up and implement right away. By tackling lead generation on several fronts — advertising, website enhancements, networking, and forging new partnerships — you'll bring in new clients from multiple streams. 
Ready to further refine your marketing strategy? Check out the Constant Contact professional services marketing guide.
The post 5 Attorney Lead Generation Tactics to Try Now appeared first on Constant Contact.