What is Email Marketing? (And How to Get Started)
Your customers wake up every morning and check their email.
Through the course of their day, they'll spend an average of 6.3 hours reading around 88 emails.
Shouldn't your business be among them?
Sending out a marketing email isn't difficult, but you have to think about it a little differently than you would if it was a personal email.
Below, you'll learn what email marketing is (and isn't), why small businesses use it, and how you can get started today.
Is your business new to email marketing? Sign up for a free 60-day trial of Constant Contact's easy-to-use email marketing tools.
What is email marketing?
Email marketing can best be described as a marketing strategy that uses emails to generate measurable returns for your business.
This differs in a few ways from a typical email you might send to a relative or coworker.
First, a marketing email is sent to either a current or prospective customer. Second, while personal emails are often just relaying information, the goal of a marketing email is always to drive business-benefiting action.
This is achieved through delivering value to your readers, often in the form of engaging content, coupons, and exclusive offers.
Finally, while you may send out a personal email and move on immediately, marketing emails should be measured to see if readers are opening them and taking action.
Why small businesses use email marketing
Small businesses use email for one important reason: because it works.
For every $1 you spend on email marketing, you will generate an average of $38. Email marketing has a higher conversion rate than social and search combined.
Matt Juszczak, founder of Turnstyle Cycle, has experienced this success first-hand.
By offering time-sensitive discounts through email newsletters, Matt has been able to consistently get new and returning customers into his studio.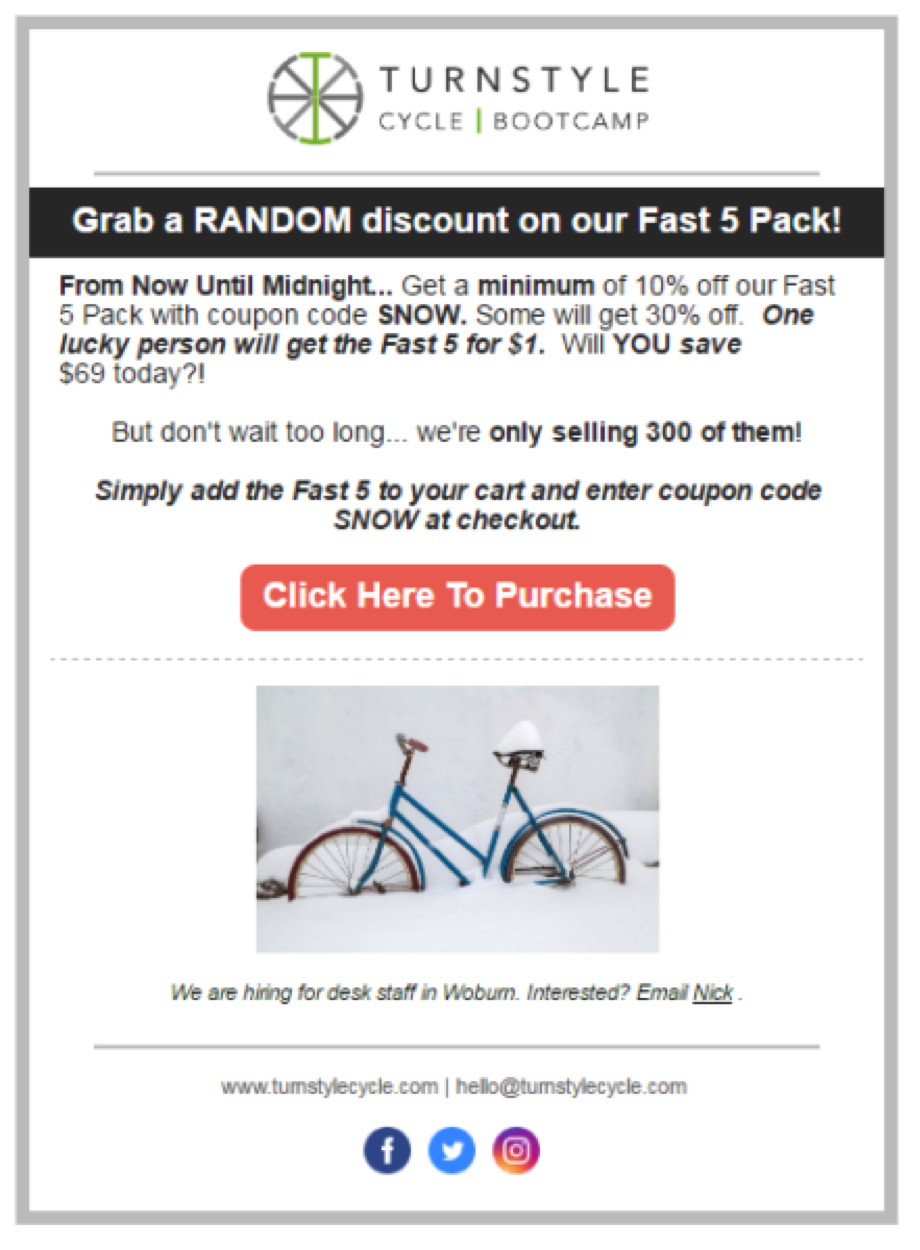 "If we didn't have Constant Contact, we might not still be in business," said Matt. "In a recent promotion…we made $20,000 in sales in one night."
To learn more, here are 29 reasons to use email marketing.
How to get started
If you have yet to try email marketing as a tool to increase awareness, sales, and repeat business, you are leaving money on the table.
To get started sending emails that get delivered, read, and acted on you should use an Email Service Provider (ESP) like Constant Contact. An ESP is a company or service that helps you send email blasts to your audience, ensuring maximum deliverability and professional design.
Ready to give email marketing a try? Sign up for a free, 60-day email marketing trial!
The post What is Email Marketing? (And How to Get Started) appeared first on Constant Contact Blogs.