September 2017 Marketing and Holiday Planning
Did you know that 40 percent of consumers begin holiday shopping before Halloween?
I know, it's hard to believe as you're trying to soak up the last bit of summer. But the holidays are really right around the corner.
How can your business gear up for a strong September? 
Think about the key holidays already starting this month and how your business can get involved.
If it's been a while since your email subscribers have heard from you, take a moment to send them an update.
Constant Contact has a selection of fall-themed templates to help you create a message quickly.
Check out our Fall Update and Labor Day Specials email templates below: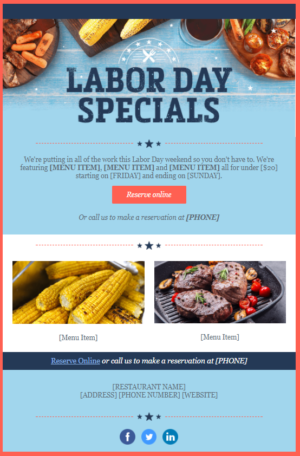 (Access these template right in your Constant Contact account. New to email marketing? Try us out free for 60 days!)
Looking for more fall marketing ideas? 
Check out the infographic below for a list of September holidays and ideas to get some holiday marketing momentum early on. Download and print the infographic to stay on track all month long.
Ready to put these ideas into action?
Log in to Constant Contact to create your next email. 

New to Constant Contact? Try us out for free! Sign up for a 60-day free trial.  
The post September 2017 Marketing and Holiday Planning appeared first on Constant Contact Blogs.