How to Get Tax Clients for Your Tax Preparation Business
Tax preparation services thrive on repeat business, but that doesn't mean tax businesses don't need new clients. Rather, potential clients (also called leads) should be cultivated and nurtured throughout the year to ensure a steady flow of revenue during tax season and beyond. 
But how do you get new tax clients? Thankfully, a variety of excellent resources exist to help tax preparation businesses like yours find qualified leads — and nurture them until they become long-term clients.
In this guide, we'll show you how to get tax clients using some of today's most effective solutions. These include:
Google My Business
Reviews from current clients
Job bidding sites
Social media
Video marketing
Seminars and conferences
Tax preparation management tools
Referrals
Find new clients with our expert advice and marketing tools.
Google My Business
While often associated with hospitality and dining industries, Google My Business (GMB) can be a valuable tool for promoting tax preparation and accounting services. 
This feature, introduced by Google, helps search engines list reputable industry-specific companies in a certain geographic area. Anyone looking for "tax preparation help" in your city could find your company using GMB. However, it only works if you register your business by creating a (free) GMB account.
Consider claiming your business on GMB and adding your contact information. Provide special hours to clue prospects in on your availability during tax season and at other busy times. Including logos and photos are also essential for establishing your brand.
Reviews from current clients
Today's internet users want to know that the businesses they frequent hold a strong reputation. Many will not bother to reach out until they've tried to find your ratings on top review sites, such as:
Yelp
While it's often relied upon for selecting restaurants and bars, Yelp also allows clients to share their thoughts about accounting and tax preparation businesses. For many internet users, this is the go-to site for insider info on local businesses.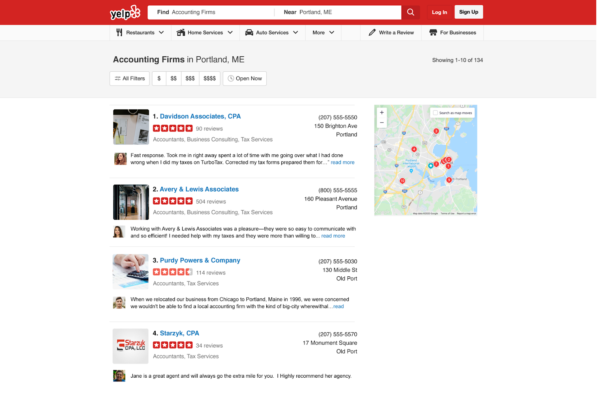 Convincing current clients to provide feedback on Yelp is simple: remind them that they can shape the digital narrative by providing their valuable insight. Feel free to encourage them via marketing emails. Don't hesitate to follow up with clients, who may need multiple reminders before they share their experience online.
Google
When prospects search for tax preparation services on Google, they should find not only results that lead to your website, but also a high volume of client reviews. 
Make the most of the short names and URLs that Google provides, as these can be shared with clients to prompt swift feedback. If you're a verified business, you can reply to reviews to build trust and establish a reputation as a responsive and empathetic tax preparation professional.
Manta
A favorite among small business owners, Manta encourages users to seek local services with help from a simple search function. With 20 million customers finding businesses through the site every month, this simple solution can help you expand your reach and access qualified leads.
Reviews are enabled on Manta but not always used to their full potential by business owners — so even a small amount of feedback could help you stand out and land excellent clients.
Job bidding sites
Job bidding sites provide a wealth of opportunities for solo tax professionals to gain clients. Thumbtack, in particular, is a great option, as it is specifically designed to match local professionals with clients. As such, it delivers qualified leads who are likely to convert. Upwork, although more generic, can also be a helpful resource.
Social media
Social media is an essential marketing tool for tax preparation businesses. The right platforms can help you generate brand awareness while demonstrating your skill and in-depth understanding of specific niches. Social media marketing also provides an opportunity to promote your tax preparation website and attract more people to your online presence.
Your efforts to develop a social media following could pay off with new clients, especially if you use these sites:
LinkedIn
A key social networking platform for professionals, LinkedIn is a top choice for tax preparation services that primarily cater to freelancers and small business owners. While many users think of the site as an online résumé, it can provide so much more.
Use the Campaign Manager to set a budget, develop goals, and target your efforts based on company size, job title, and seniority. The Campaign Manager tool helps you keep on top of text, dynamic, and message ads, all of which can be used to connect with potential clients.
Facebook
As one of the world's top social media sites, Facebook provides a vast array of marketing solutions. To begin, develop a business page with basic information in the "about" section, as well as shareable content that followers will feel compelled to check out.
Facebook also offers paid advertising solutions that allow you to target your efforts to the types of users who are most likely to convert. Take advantage of marketing via Facebook Messenger, where you can interact directly with your followers to quickly build rapport. Don't forget the business page call to action button, which can encourage potential clients to book consultations on the spot. 
Instagram
While Instagram may not seem to be a top option for accounting and tax preparation businesses, it actually holds strong potential. Striking visuals can give prospects an accurate idea of your philosophy and general approach to tax preparation. Integrations with Facebook allow you to build a cohesive strategy without requiring a lot of additional effort.
Video marketing
Videos provide a personable touch that quickly evokes the essence of your brand. They're ideal for consumer-oriented tax services, which may require not only evidence of expertise, but also, demonstrations of warmth and compassion to increase confidence among struggling taxpayers. Many appreciate how-to videos, which explain key tax concepts but also highlight the benefits of working with a paid provider.
YouTube, of course, is an essential platform for video marketing. In addition to developing your own promotional videos, use display, overlay, or bumper ads to expand your reach.
Depending on your clientele, you may also benefit from uploading short-form videos to Instagram and even TikTok. These platforms are preferable for playful content — especially if your target audience skews young.
Seminars and conferences
Draw on the power of event marketing with conferences or seminars that offer prospective clients insight into concerns such as employment taxes for freelancers or tax strategies for retirement income. Invite contacts on your email list and share details on social media. 
Free events attract plenty of attendees, who will be eager to learn more about key tax topics. However, they also may quickly realize that they'll benefit even more from investing in your services.
While in-person events are especially useful for scoring new tax clients, digital alternatives such as Zoom conferences or Facebook Live broadcasts also demonstrate your expertise to viable new prospects that may live farther away or want to tune in virtually.
If potential clients are unable to attend live video sessions at a specific time, provide access to video recordings in exchange for contact information. This is a great option for building your email list. Don't forget to use Constant Contact's email marketing solutions, which make it even easier to keep in touch with leads. 
Tax preparation management tools
Many taxpayers are initially convinced that they can handle their tax returns on their own. Often, the need for additional assistance becomes clear while they're in the midst of preparing their returns with help from tax management software.
Instead of fighting the use of free tax solutions, embrace it. Offer potential clients a free trial that allows them to get familiar with your approach before investing in your professional services. Let clients know that paid solutions deliver all the benefits of free systems, but with personalized options that could significantly reduce their tax burden.
Refferals
Current clients could be your best source of new business. Those who are pleased with your services should be happy to recommend you to friends, family members, and professional contacts. Many never bother to think their trusted tax experts could benefit from additional clients. Encourage them to spread the word by developing a program that incentivizes referrals.
The best tax preparation referral solutions provide discounts for both existing and new clients to ensure that recommended leads follow through. Simplify the process by providing referral codes that can be shared via email or social media — and easily redeemed online or while booking in-person consultations.
Start attracting new clients
Looking for additional ideas on how to get tax clients? Take a look at Constant Contact's The Download. This marketing guide for professional services will inspire you to take the next step with your search engine optimization (SEO), social media, or email marketing campaign.
The post How to Get Tax Clients for Your Tax Preparation Business appeared first on Constant Contact.
Comments are closed.