How to Create Content Subscribers Actually Want in Their Inboxes
The average person checks their email dozens of times a day.
They're actively looking for something to engage with.
While many businesses spend a lot of time focusing on subject lines and sending frequencies, these factors might be the least of your worries.
First, you need to make sure you're actually giving people what they want!
So today we're covering how to create content and send effective marketing emails that subscribers actually want in their inboxes. Let's get started.
1. Focus on adding more value
Easier said than done, right? The real question is how do you add more value? I've seen four ways that work especially well.
Glassdoor does a great job of this. Their mission is "to help people everywhere find jobs and companies they love." Their targets share a similar goal — to find a job and a company they love. The problem Glassdoor solves is an unfulfilling job at an unenjoyable company.
To help subscribers solve this problem, Glassdoor sends out emails like "20 In-Demand Jobs That Pay $100K+." If you click through, you'll find an article detailing each job.
Content like this helps Glassdoor's audience understand what's available, and move further along the chain of finding a job and a company they love. It helps them solve their problem.
What are your subscribers trying to accomplish? How does your company help them do that? Send emails that align problems and solutions.
Everyone has questions. But what questions do your subscribers have? You can add a lot of value to your emails by answering these questions.
For instance, a lot of our subscribers at Text Request know text messaging is useful, but they have one important question: How can I make money from text messaging?
So we created a blog post and an email for 5 Tips to Successful SMS Lead Generation, which shows people how they can make money from texting. And they loved it!
Another way to answer questions is through industry research. For us, that looks like answering "How much time do people spend on their phones every day," or "How many texts do people send every day?"
For others, questions might be "How many customers am I losing because of X," or How much do people spend on Y?"
Learn what questions your subscribers are asking, then send them answers to those questions.
Make something complex simple
Whenever you can make something simpler, everyone wins. You've just found a way to make people's lives better, and that brings a lot of value!
For example, building an email list can feel scary at first. How can you excel at email marketing if you don't have any contacts to send to?
Constant Contact simplifies the process of list building by writing practical content and sending it to their Hints & Tips newsletter subscribers.
By simplifying a process, you can help your audience tackle something that once seemed insurmountable.
It's not enough to share good information. You also have to make that information feel unique to your business. Here are a few ways how:
You can create urgency or scarcity with product offers
Provide new experiences, like events, features, and other opportunities
Share exclusive content or products
Tell a great story
Jeff Goins does this last one well. His schtick is shattering common myths about making money from writing. In his emails, Jeff tells a quick story about one of these myths, and then links to a new blog post or opportunity that goes into more detail.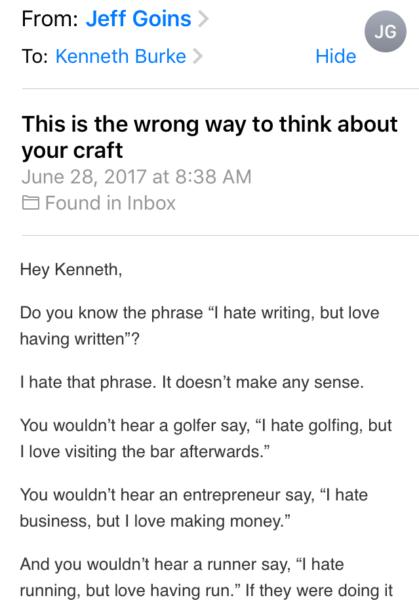 How do you ignore that? He also goes on to help his subscribers (wannabe writers) solve their problem (making money writing) for added value.
2. Now, build your reputation
Great reputations take time to build, but they're worth it. And you can build one by regularly sharing valuable content. Over time, you'll see your reputation blossom through your engagement rates
Here are a couple examples.
Example 1 – Give quality
Inc.com publishes a lot of new content every day, and then sends out daily "best of" newsletters. Without fail, I open every one of these emails, because I've come to expect great things from them! They bring me value, I enjoy it, and I always look forward to the next email.
Example 2 – Create excitement
When they were young, Jet.com would send out a different set of outrageously good deals every day. Pretty soon, they built a reputation for awesome deals, and people started anticipating those emails, which led to Jet regularly selling out of their daily offers.
By sending value steadily and repeatedly, you'll build a great reputation that people look forward to seeing in their inboxes.
3. Treat your subscribers like your best friends
If you don't understand your subscribers, you won't know how to bring them value, and you won't be able to build a great reputation. On the surface, we all understand this, but we need to take it a few steps further.
Knowing what your targets look for in a product isn't enough. You need to know:
How they communicate
How they think
How they feel
What they want
What their goals are
What their motivations are
Basically, you need to know your subscribers as well as your best friends. If you don't, then start having conversations and get to know them!
Tip: An easy way to get to know your subscribers is to add short, one-question polls to your emails. This increases engagement and helps you learn about their interests.
When you do know your subscribers as well as your best friends, your emails will morph. Instead of shipping out "professional" messages or "cool" emails, you'll start communicating with your audience like the real people they are.
This goes a long way because authentic communication helps build relationships and trust with your brand. Remember that every email — every communication of any sort — is a chance to build a relationship between that person and your brand.
When you really get to know the people behind the emails, you'll be able to bring more value and build stronger relationships, which creates more engagement.
Now you know how to create content that people actually want
We all want more people engaging with our emails more often. To do this, you need to focus on adding more value, building great reputations, and treating subscribers like your best friends. When you follow these steps, people will want to read your emails!
Put these tips to work! Send an irresistible email to your subscribers today.

New to email marketing? You can try Constant Contact's easy-to-use email marketing tools for free.
About the Author: Kenneth is the marketing director for Text Request, a business texting platform, owner of Kenneth Burke Media, a boutique marketing agency, and loves being the first to recommend a good book.
The post How to Create Content Subscribers Actually Want in Their Inboxes appeared first on Constant Contact Blogs.