Location-Based Services and Small Businesses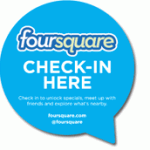 According to a new article from Forbes, the search for local products and services continues to shift away from the Yellow Pages and online directories and search engines to location-based services via a plethora of mobile apps.
Services like Foursquare, Facebook Places and ShopKick are leading the charge, as consumers shop on the go and share details about purchases with friends. The power of a personal recommendation is coming full circle as it becomes easier to share and find reviews and ratings on local shopping apps.
There are 6,000 location-based apps for the Apple iPhone alone, allowing users to share photos, videos and reviews. Smartphone adoption and the quick sharing capability of hyper-local information – and for some apps, a gaming element – is driving consumer use. Foursquare, which allows users to check in to businesses and be rewarded with special offers and badges, now has 7.5 million users – and the majority have joined in the last year.
As consumers jump on the trend, businesses are paying closer attention to their local-mobile presence. Merchants can pinpoint a customer's exact location and reach them at the point-of-purchase, helping build loyalty, engagement and sales.
The 2011 MerchantCircle Merchant Confidence Index Survey of 8,500 U.S. small- and medium-sized businesses showed that merchants are using location-based services more for marketing. In fact, 32 percent of SMBs said they used Facebook Places to promote their business.
For small businesses, the appeal of such a service is obvious: There's an opportunity both to draw in new customers and develop deeper connections with existing ones. But, despite the fact that using such services is free, the vast majority of small businesses haven't taken advantage of location-based services.
Do these programs work?  A year ago, Mark West, the owner of Monique's Chocolates, did a little experiment: He bought a half-page ad in a local magazine touting a "buy one, get one free" offer for about $350. He offered the same deal on Foursquare for free. The print ad yielded one new customer, while the Foursquare deal netted 30-plus, four or five who became repeat customers.
Want to give it a try?  Contact us and let our team assist you with your located-based marketing services!
---
This entry was posted on Tuesday, June 21st, 2011 at 2:22 pm and is filed under
News & Updates
. You can follow any responses to this entry through the
RSS 2.0
feed. Responses are currently closed, but you can
trackback
from your own site.
---