How to Create a Holiday Social Media Calendar
By now, you've probably heard about the importance of using social media to promote your business during the holidays, and throughout the rest of the year.
You may have even seen some of the stats about the value of social media, like:
Two-thirds of shoppers use social media to find the perfect gift.
Regardless of how much stock you put in the numbers, when it comes to the holidays, you know how important having the right plan to reach new customers and bring people into your store can be.
And even if you're not a social media enthusiast, with the right plan, you can drive meaningful results on social media this holiday season.
Creating a social media plan starts with understanding what each network can bring to your business.
For the holidays, you'll want to focus your efforts on a select group of social media sites that will offer the right features for connecting with your audience.
Here's an overview of how each network could work for your business.
Now that you understand what each network can bring to your business, it's time to start laying out your schedule.
To help get the ball rolling, we've brainstormed a list of creative post ideas perfect for each of these popular networks:
Use these ideas for inspiration. Choose the ones that make sense for your audience, and add your business's unique personality to make them your own.
The final piece in your social media plan will be deciding on a frequency to post on each platform.
Below we have outlined recommended frequencies for all the different social networks. Remember that this is your social media plan. Focus on the networks you think offer the biggest opportunity for your business. These frequencies can provide guidelines as you start putting your calendar together.
(Note: Frequency will be most important on sites like Facebook, Twitter, Pinterest, and Instagram. On YouTube, you'll likely be creating one or a series of videos, and won't need to focus on posting on a daily or weekly basis. Learn more about using YouTube.)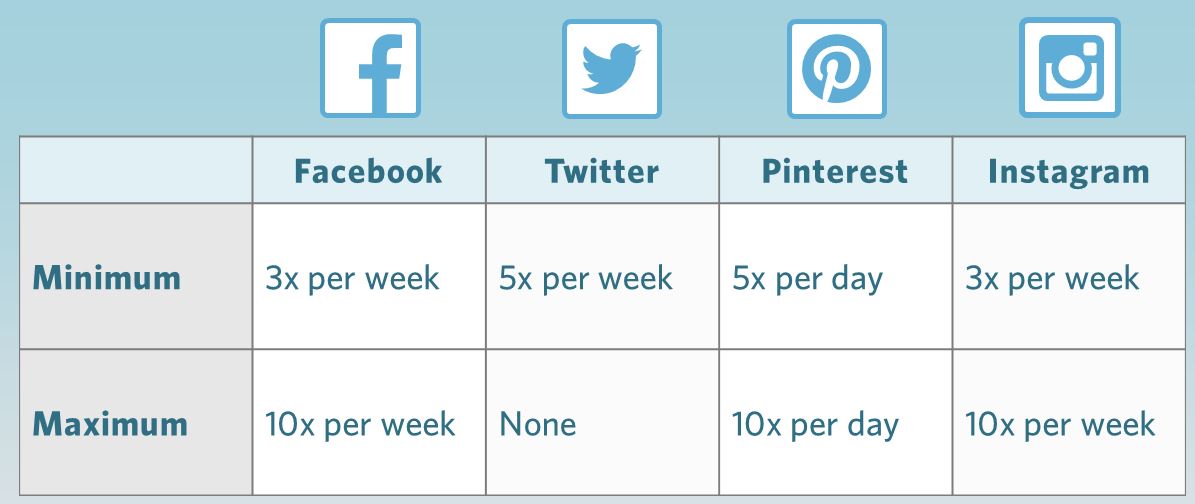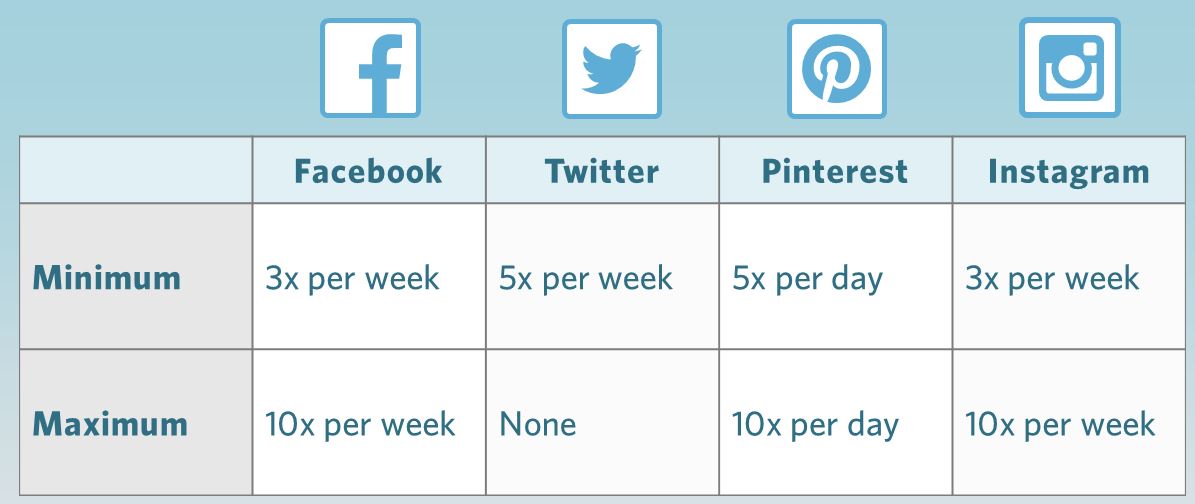 With your content ideas and plans for posting mapped out, you can now start filling your calendar.
As you start putting your social media plan together, keep these important official and unofficial days and holidays in mind:
Thanksgiving — November 27
Black Friday — November 28
Small Business Saturday — November 29
Cyber Monday — December 1
#GivingTuesday — December 2
Hanukkah — December 16 – December 24
Christmas Eve — December 24
Christmas — December 25
Boxing Day — December 26
You'll also want to factor in your other marketing activities. For example, look for ways to coordinate your posting schedule with your email marketing schedule. Remember that you can easily share your holiday emails on social media, and use social media to encourage fans and followers to join your email list.
Here's an example of what your calendar might look like for December:
As you start to put your calendar together, look for ways to save time and keep things running smoothly.
If you're a Constant Contact customer, you can create and schedule your holiday emails in advance. You can also use tools like Facebook's native post scheduler, which lets you schedule your posts ahead of time. Try to incorporate a number oftime-saving tools to schedule posts before things get too hectic.
Also, make sure to take advantage of the convenience of mobile tools. Download the mobile apps for each of your most important social sites. You can alsodownload the Constant Contact mobile app and create email reminders and announcements right from your mobile device!
Ready to get started?
Kick off your holiday posting schedule with Small Business Saturday in mind.
Come up with a great Small Business Saturday offer, and use your different communication channels to get the word out.
Remember that your schedule should include a mix of content that is designed to promote your business, and content that's designed to entertain and engage your audience. It's ok to put more of a focus on promotion when you're trying to get the word out about an offer or drive last-minute sales, but make sure to mix in other posts that people will want to share and respond to.
 Source: Constant Contact
---
This entry was posted on Friday, November 14th, 2014 at 11:48 am and is filed under
News & Updates
. You can follow any responses to this entry through the
RSS 2.0
feed. Responses are currently closed, but you can
trackback
from your own site.
---