All Around Feed & Vet  serves the north Texas and southern Oklahoma communities with quality feed for all your ranch, farm, livestock and pet needs.  An old fashioned feed store, our store is uniquely combined with the local Veterinary Clinic.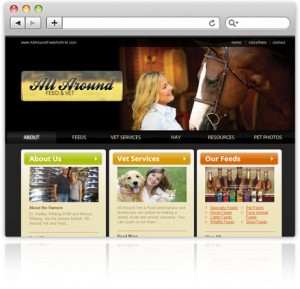 Our latest projects
Testimonials
Due to unforeseen circumstances, my participation in this year's Purina Expo was not possible. Some quick thinking prompted me to ask our Red Mango Rep to go in my place. I had no idea it would work out as well as it did!

Kathleen attend the meetings and expo on my behalf. She worked hard to help me learn what vendors were at the show, shared the show specials and placed several orders for us! Afterwards Kathleen visited our store, updating us on the information she learned at the meetings. She is wonderful!

What initially was a disappointment turned into a wonderful and pleasant experience. Oddly enough, I would consider using Red Mango Marketing to attend the Retail Expo again! Thank you Red Mango Marketing and especially Kathleen for saving us in a pinch!