7 Tips to Maximize the Autumn Season with Holiday Email Templates
Holidays are always exciting.
Traditionally, friends and family get together, the streets buzz with shoppers, restaurants are full, and gifts are exchanged. While some of that may be curbed this year due to the coronavirus — it's still a time for joy and merriment.
It is hard to believe, but autumn is just around the corner. Kids will be heading back to school — whether virtually or in-person — and business owners are gearing up for the season. Restaurants are creating autumn-inspired menus. The latest fall fashions and decorations are filling up window displays, website pages, and social media ads. Local businesses are thinking up exciting offers, and ecommerce stores are getting makeovers.
Holidays are an excellent opportunity for business owners to maximize business and, at the same time, strengthen customer relationships.
One of the simplest ways to share this excitement with your customers is by using holiday-inspired email templates.
Ready to do more business with email marketing?
Start your free 60-day trial today.

Learn more

about our 60-day free email marketing trial.
Make the holidays work for you
You might consider the holiday season to be 'downtime,' but making the extra effort to send the right email to the right person at the right time can turn it into the most successful time for your business.
Autumn brings with it an array of holidays. There are federal and state holidays, religious holidays, and even some fun national holidays that you can use to your advantage.
Did you know that September 18th is National Cheeseburger Day? Imagine how exciting it would be for your customers (if you are a restaurant or cafe) to get an email with a discount on cheeseburgers on that day.
Or, on October 3rd, on National Boyfriend Day, your business could offer an exclusive offer to anyone buying a gift for their boyfriend.
There are a lot of holidays to consider, and choosing the ones that are right for your audience will make all the difference.
Why and how do personalized holiday emails work?
Personalized emails instantly catch a reader's attention, and have a higher chance of convincing them to take the action you want.
Say, for example, you are hosting a Thanksgiving dinner at your house. You have all your loved ones coming over, and you are both excited and anxious planning the whole affair. You receive an email from your favorite home decor store, offering you a 30% discount on Thanksgiving-inspired table mats and candles — wouldn't you jump and grab this deal?
Chances are, this business already knows your love of home decor, and they capitalized on the holiday season, and theme, to compel you to make a purchase. It's a win-win for both you and the business.
While the holidays are a time to generate more sales, they also provide an occasion to strengthen customer relationships.
A simple holiday greeting email lets your customers know that you value them. This is also a great opportunity to build your brand personality and showcase your creativity.
So, how do you create holiday-inspired emails that are simple but powerful? Here are seven ways to help you get started.
7 tips for creating autumn holiday emails
Creating holiday emails is all about capturing the essence of the holiday and adding a little something for your customers to put the 'happy' in happy holidays.
Here are seven easy tips for creating and sending impactful holiday emails:
1. Send holiday greetings
Okay, so not every email you send needs to drive action. Sometimes a simple email greeting is all you need to let your customers know that you value them. Everyone appreciates a brand that takes the time and effort to keep the communication going, and holiday greetings showcase that effort. If you're not running any holiday discounts, but still want to maximize the holiday season just create a greeting email. Be creative, and right from the subject line — the first thing your customers will see — bring in the spirit of the holiday.
Here's an example of a simple holiday greeting email celebrating the Jewish New Year, Rosh Hashanah:
2. Offer a Holiday incentive
Everyone loves a discount — especially during the holidays when people are entertaining or buying gifts for friends and family. Creating an email that offers an incentive along with a holiday greeting is sure to make people take notice and make the most of your offer. A discount coupon or a too-good-to-miss deal holiday email will have customers jumping in to grab it.
Here's an example of turning your simple greeting email, into a holiday offer: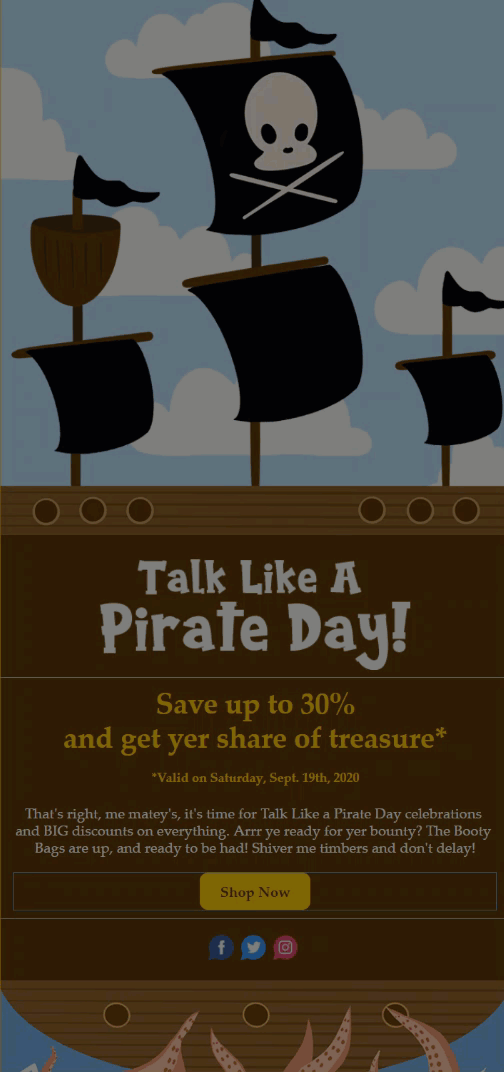 3. Offer added shopping benefits
It's not only discounts that make people shop. Added shopping benefits like free shipping, expedited delivery, or gift wrapping are other factors that influence buying decisions. Showcase these benefits in your email and quickly drive people to take action. Everyone loves a good deal, and sometimes it's these little details that get people excited to shop for more.
Here's how you can create an email that combines International Coffee Day with added shopping benefits to get people excited:
4. Use or create holiday theme templates
When creating holiday emails, it's not just the content but also the design that must reflect the essence of the holiday. When we think autumn, the first thing that comes to mind is earthy browns, leaves, pumpkins, coffee, and other meaningful elements associated with the season. Take inspiration from these colors and motifs of the season to create your email templates. The design of the email — the colors, fonts, images — must all enhance the spirit of the holiday.
Here's a look at some easily customizable Thanksgiving email templates created for Constant Contact users:
5. Host holiday-inspired events
Use an event to bring people together — online or off. Market your brand and business, collaborate with other local organizations, and maximize the holiday season. No matter the size of the event, holidays are a fantastic time for hosting successful events. Capture the essence of the holiday to create a remarkable event. For example, cook up spooky menus for restaurants on Halloween, spruce up your store with red, white, and blue decor for Veteran's Day, and host local farm to table events on Thanksgiving, etc.
I was immediately hooked by this event invitation that I received last Halloween: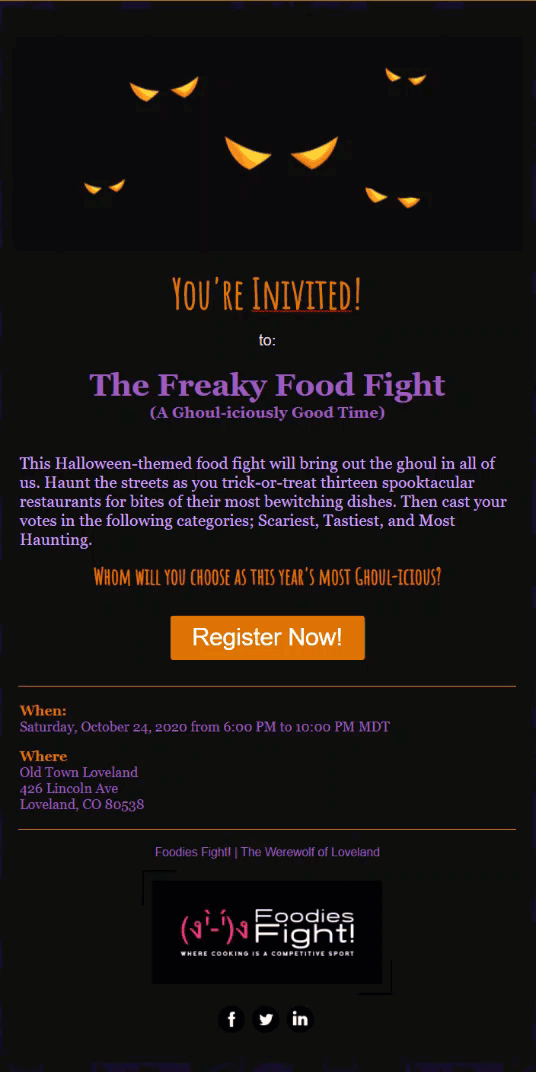 6. Create shopping guides
Sometimes the best thing you can offer is your expertise. You know your products better than anyone else, so curate a shopping guide filled with recommendations for buying holiday gifts. You could also create a list of everything that's happening at your store, or in your local community, during the holiday season.
Here's an example of providing contacts access to a free shopping guide for a much-awaited Black Friday sale:
7. Create holiday-inspired content
It's fun to spruce up your email design for the holidays. But, don't forget to adjust the content. The first thing your customers will see is the subject line, and you must evoke the essence of the holiday from the start. Get creative and develop content that catches your reader's attention immediately. Say you sell Halloween costumes, and you're creating a discount email. Your subject line could be simple (boring!) like '20% off on Halloween costumes', or it could be more playful with something like 'Ready to look your spooky-best?' You could also add Halloween inspired emojis to make it more relatable.
Here's an example of a Veterans Day email from a nonprofit with content inspired by the holiday:
Do I need to create emails for every autumn holiday?
No. Of course not.
There are a lot of holidays throughout the fall — federal and state holidays, religious holidays, national holidays, and international holidays. You don't need to create emails for all of them.
Choose the holidays that are most relevant to your audience and the local community. Is your audience from a specific geographical location? Pick holidays that are most relevant in that region. Does your audience observe a particular religion? Pick holidays that make the most sense to them.
For example, if you are a business owner in the US, but the majority of your customers are outside of the US, picking local holidays will not make sense.
Also, understand the need to be sensitive to religious sentiments and beliefs. Consider the meaning and the essence of the holiday and make sure there are no sensitivities attached to it.
Capture the autumn holiday spirit with personalized emails
The autumn season brings with it many holidays that can jumpstart your fall marketing. Start planning your email campaigns, and pick the holidays that make the most sense for your customers.
These seven simple tips will help you create compelling emails, that will maximize your sales, communications and customer relationships.
Just capture the essence of the holiday and let your email spark the joy and the meaning of it — from how the email looks, to what it says.
Ready to start creating your autumn holiday emails? Start by picking a holiday-inspired template and create a greetings email.
Ready to do more business with email marketing?
Start your free 60-day trial today.

Learn more

about our 60-day free email marketing trial.
Editor's note: This post was updated for relevance and accuracy on August 19, 2020.
The post 7 Tips to Maximize the Autumn Season with Holiday Email Templates appeared first on Constant Contact.